Vince Stanzione, Spread Betting and First Information
Vince Stanzione is a self-made millionaire perhaps best known for his financial trading exploits.
An ex-city trader and veteran of the financial markets, Vince has been teaching ordinary people to trade successfully since the mid-1990s.
He is very well-known for his specialist knowledge of "spread betting" and he promises that he can teach you how to make £400 per day from this type of trading, which he calls "Financial Spread Trading".
Trading Course
Vince's main product is a home study course called "Making Money from Financial Spread Trading" which is currently available for £197, down from the usual price of £347.
According to Vince's website this home study course will show you how to trade popular financial indices like the Dow Jones and FTSE 100 from as little as £10 total risk.
Uniquely, it also covers the less popular markets such as commodities, FTSE 350 sectors, currencies, UK shares, US stocks, indices and much more.
He packs in information he has gathered from over 20 years as a professional trader.
Although he hasn't always been successful (he freely admits to losing everything in the 1987 stock market crash), Vince has made a fortune from spread trading.
Whilst most were losing their heads and their shirts in the great "dot com" boom and bust in the late 90s, Stanzione profitably traded the market on the way up and then also on the way down.
Soon after that, he was featured in several national newspapers.
The Observer Article
In 2003 Vince was the subject of a two-page feature in the Sunday Observer where the journalist centred on his success speculating on the price of Gold and also Antofagasta (a UK company).
It said that Vince's trading statements showed he had lost £57,000 over the previous 3 months on a handful of trades but profited to the tune of £400,000 on other trades in the same period - a net gain of £343,000 over 3 months.
On seeing this article, and doing some research about Vince, I bought the "Making Money from Financial Spread Trading" course in early 2004.
I remember reading the sales literature over-and-over before using the fax machine at work to send in my order, paying the £347. How times have changed...
Making Money from Financial Spread Trading 2013 Edition
Recently I upgraded to the 2013 edition of the course which has been updated even further to accommodate new strategies that Vince has found and is currently using.
The course includes:
Making Money from Financial Spread Trading workbook manual including Vince's secret trading strategies
A DVD set that compliments the manual
ShareScope Demo CD
A Free £20 Trade
Access to TrendSpotter service and daily updates
Copy of Vince's new book "The Millionaire Dropout"
Free access to Vince Stanzione's private membership financial trading website
Making a Fortune from Fixed Odds Betting Book
The workbook contains a great deal of information on the basics of spread betting and then goes on to suggest some time-tested strategies for trading the financial markets. Read this first and then watch the DVDs in order to get the complete lowdown on what you should be doing to get started with trading your own account.
Although it's been 9 years since I first studied Vince's course I still thoroughly read the workbook at least every 6 months, making notes to remind myself of Vince's advice and his 'golden rules' of trading.
At the same time I watch the DVDs a couple of times – I find it helps to refresh the memory regularly and avoid bad habits which can harm a trading account.
The results speak for themselves.
Vince offers a 100% money back, 1 year guarantee, promising to refund customers in full if they do not make money after following the advice he gives in the course.
Conclusion:
Making Money from Financial Spread Trading is an excellent investment for anybody who is looking to make money from the financial markets. It contains quality advice and some clever trading strategies and at only £197 offers good value for money.
Just one strategy in particular that I have used to make money trading UK shares allowed me to pick up a share which was about to rise considerably because, unknown to me or anyone else, it was about to be bought out.
Over just 5 months I traded the share from 475p to 603p following Vince's advice and made a very healthy profit – tax-free of course!
There have been many other examples of shares I have traded which moved into profit quickly after I identified them using Vince's rules.
Of course there have also been losing trades, anyone who tells you that you won't have losing trades is in fantasy land, but the losers are quickly closed to limit the losses.
Vince fully explains what to do and when to do it in order to maximise winnings and reduce losses. It's simple and very effective.
Perhaps the best thing about following Vince's methods is that it's quick to do. There's no sitting around in front of a PC waiting for signals, everything is done using "end-of-day" data. No day trading, no rushing. You enter a trade and then leave it to run until you are given a signal to do otherwise. This could be weeks later.
As you already know your maximum loss, and you limit this to comfortable levels, there's little stress which is a massive plus point.
Because of my success with this course, my satisfaction with the information contained within it and the 100% money-back guarantee I am happy to recommend Making Money from Financial Spread Trading.
See http://www.thefintrader.com for more details.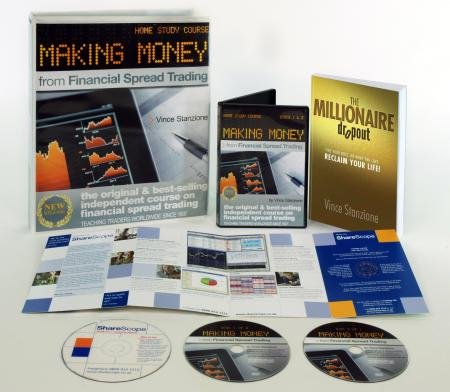 ---
Update 04/11/2010:
Started completely afresh with a new spread betting bank on the 20th July 2010.
Using Sharescope, Finspreads and techniques gained from Vince Stanzione's course, here's how I did up until the September expiry date:
Trades opened: 41
Winning trades: 26
Losing trades: 15
Profit: 7.7%
Longest time in trade: 56 days
Shortest time in a trade: 13 days
After those trades expired I rolled over 24 of them and they (plus more I have added since) are due to expire on the 14th December 2010.
Currently I have 55 positions open and my profit/loss shows I am up 19.19% since 14th September 2010.
Of course, this changes constantly due to share price fluctuations. The real results will come on expiry in December.
For more details on Vince's course please see http://www.thefintrader.com
---
Update 15/12/2010:
Despite the best efforts of De La Rue (DLAR) to mess up my bank, my remaining positions expired yesterday and added a fair chunk to my Finspreads account.
Trades opened: 74
Winning trades: 43
Losing trades: 31
Profit: 23.23%
Longest time in trade: 91 days
Shortest time in a trade: 2 days
I first entered a short trade on De La Rue on the 22nd July 2010 and as the price decreased I added to my position so that by the 30th November 2010 I had quite a large short trade in DLAR.
Then on the 1st December the price suddenly moved from 578p to 637p and took out one of my trades.
That should've been a sign to get out but I stayed with it until the 6th December when the price jumped up to 841p on rumours of an offer for the company.
My stops were hit (actually they were surpassed as the price gapped) and I lost a fair amount but it could've been much worse.
Luckily I had stops in place and I stick to a rigid money management system that means I never risk more than 2% per trade.
What next for DLAR? Who knows. The rumours did not result in a sale so I guess we'll have to see where it goes.
Should it make the right moves I'll be back in with another short position but not yet. I need a sign that it's moving first.
Best trade by far was Bowleven (BLVN).
This was another that I started trading on the 22nd July. It didn't do much for a couple of months but then suddenly started to move upwards in November.
It went from 168.25p on the 1st November to 323.75p on the 30th!
Not bad, especially when I added another trade on the 10th.
Don't ask me why it moved up, I have no idea. But the price moved and I caught a lot of the move which means profit.
In conclusion, a great few months of trading. Let's hope it continues.
I rolled-over 40 positions which will expire on the 15th March 2011 so please expect another update around that time.
Vince Stanzione's spread betting course is available at:
http://www.thefintrader.com
---
Update 01/04/2011:
Some good news but mostly bad news from the last load of trades. Here are the numbers:
Trades opened: 75
Winning trades: 24
Losing trades: 51
Loss: 22.90%
Longest time in trade: 91 days
Shortest time in a trade: 1 days
My account was going pretty much sideways - no real profit, no real loss - and about a week before expiry it looked as if I was going to make a small loss. Then, unfortunately, the markets were spooked by the terrible events in Japan.
So the bank takes a hit and in 3 months I lose 22.90%. That's the nature of trading I guess and it certainly could've been far worse had my stops been too close.
Luckily my money management is, in my opinion, pretty sound and I came away with some big but not catastrophic losses.
Overall, since my start on the 20th July 2010, the bank is currently up 2.39% so I am still beating a savings account!
I rolled-over 24 positions which will expire on the 14th June 2011 so please expect another update around that time.
Vince Stanzione's spread betting course is available at:
http://www.thefintrader.com
---
Update 20/06/2011:
The latest update has been posted to the blog:
Financial Trading Update June 2011