Andrew Reynolds and the Cash On Demand System
Update 2014: Andrew released a book in September 2013 which he has called "Copy This Idea". It is available on Amazon:
---
For many years Andrew Reynolds has been one of the most recognized names in the field of home business training in the UK. He has been responsible for the training of marketers including Tim Lowe, Nick James and Simon Coulson who have each pulled in over £1 million using his systems.
Andrew's website includes over 1,000 positive feedback comments from his customers.
He has been in business for well over a decade, initially selling Bill Myers videos from his spare room after he left his full time job. According to his sales letters for various 'bootcamp' events he has gone on to pull in over £50 million in sales.
In 2005 he announced his semi-retirement and launched his monthly modular home study course, the Cash On Demand system.
The course is still for sale although more recently the sales letters feature Jane Somner of Focus Research & Marketing Ltd rather than Andrew. The course is now called the Cash on Demand 2.0 Home Study Course. In the past the course has been advertised on TV, specifically the Entrepreneur Channel on Sky but the channel now appears to have been taken off the air.
The Cash on Demand course was specifically designed to teach ordinary people, just like Andrew, how to copy his system for generating money from a home-based business.
Subscribers to the Cash On Demand course were provided with a step-by-step system to follow which showed them how to emulate Andrew's success in the direct marketing and information publishing field - both online and offline.
As a result of many subscribers asking for a 'fast track' way to get started – he agreed to hold a three day 'Entrepreneur Bootcamp' event for his subscribers in 2005.
Another event was held in May 2007 in Bournemouth and Andrew gave all of the ticket proceeds (over £400,000) to Great Ormond Street Hospital Children's Charity.
Proceeds from the entrance fee were donated to a delighted representative of the charity on stage during the bootcamp.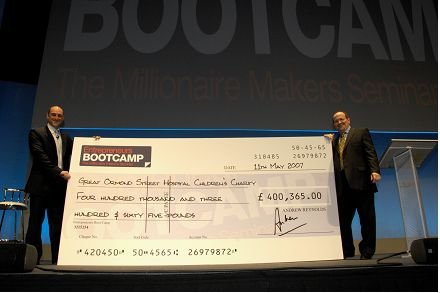 Also on stage at the Millionaire Makers Seminar were other coaches and speakers who flew in from around the world to help Andrew raise the money for the charity. These successful businessmen shared their systems for making money 'live' on stage.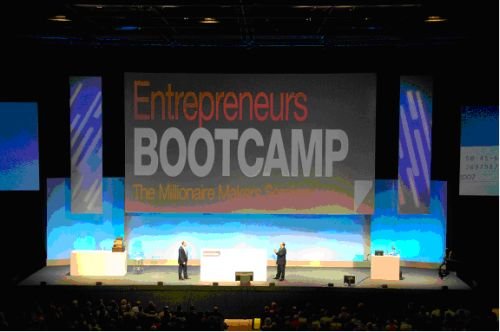 If you missed the Entrepreneur Bootcamp but you are looking for a fast track to getting started in a home business, either full or part time, you will certainly want to see this private site offering Andrew's Millionaire Makers Seminar on DVD
In the package you get the DVDs showing footage of the entire event and also £6,000 worth of reprint rights to readymade products to help you get started.
In addition, you also receive the opportunity for a personal one to one consultation with Andrew Reynolds worth £1,000.
More details can be found on at the following site:
Update: This opportunity is no longer available but the page remains online for archive purposes
---
Andrew's Bootcamp events:
'Entrepreneur's Bootcamp', Wembley, November 2005
'Millionaire's Bootcamp', Bournemouth, May 2007
'Entrepreneur Bootcamp 2008', Brighton, June 2008
'Entrepreneur's Bootcamp 2009', London O2 Arena, October 2009